Becoming a Family That Heals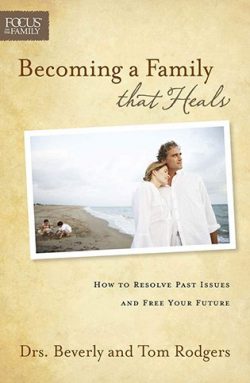 Through the years of working couples, The Rodgers have found that the negative patterns they use to navigate their relationship tends to be passed down to the next generation. This book helps parents deal with their own woundedness so they do not allow the sins of the fathers to be passed down to their children. The Rodgers hope to help couples find the "Divine Us" that God intends for each married couple so that they can be healthy partners and parents.
George Ohlschlager
AACC
"Want to know how to weather through "family storms?" Want to heal from those nasty generational "soul wounds?" How about discovering the "Divine Us" of God's intent for your marriage? What about learning how to bless rather than curse your children and their future? All this is possible in Tom and Beverly Rodgers' new book on Becoming a Family that Heals. The Rodgers take us on a divine, Scripture-laden tour of their Soul Wound counseling model applied to the family healing process, showing us step-by-step how to direct therapy and bring healing to the emotional chaos and relational double binds that lock up couples and families from finding God's good way out. In a style reminiscent of the classic book, The Family Crucible, the Rodgers weave together case material, their own marriage struggles, biblical revelation, and didactic instruction to present the often difficult and enmeshed process of family transformation in a profoundly clear and simple way. It is a tour-de-force that should be read and applied by every Christian counselor and pastor who needs to know how to help families dig out of their self-made pits and track in the direction of Godly healing and wholeness."